To facilitate you to choose a more suitable steel sheet pile for the project, we introduce several kinds of steel sheet piles commonly used in construction projects in this article.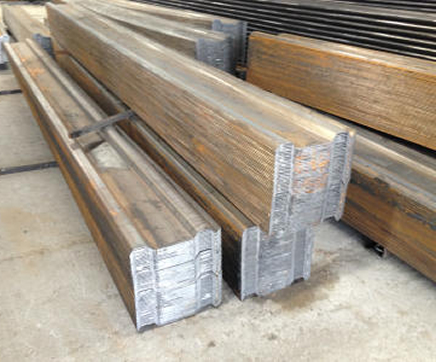 1. the trench steel sheet piles:
The most important feature of this type of sheet pile is that it has a very high-strength locking joint. Trench steel sheet pile is mainly suitable for modular housing materials construction.
2. U-shaped steel sheet pile
There are many types of U-shaped steel sheet piles in steel sheet piles, and the section coefficient is 529×10-6m3—382×10-5m3/m. Because it is solid and suitable for repeated use, it is often used in temporary structures. When engaged, the lock is shaped at the neutral axis of the wall. The straight-line steel sheet pile has the characteristics of a very high bite strength of the locking parts at both ends. They are mainly used as shell material for the steel sheet pile unit construction method. The combined steel sheet pile is made of two U-shaped steel sheet piles assembled into a cylindrical shape and welded together. More significant section coefficients can be obtained by the appropriate assembly of steel sheet piles. According to the design and construction conditions, the length of the assembly can be changed.
3, the combination of steel sheet pile
At present, there are many types of steel sheet composite piles. This blog post first introduces two commonly used U-shaped steel sheet piles welded composite piles. Through this design, we can obtain a more extensive section modulus, and at the same time, we can change the construction process according to the splicing conditions.
Shunli Steel currently has a total of 55 production lines, including special production lines for modern steel sheet piles, spiral pile production lines, H-type composite pile production lines, anti-corrosion, welding, pipe pile locking and other heavy-duty steel production lines. If special customized models are required, you can contact us to provide you with complete solutions and products.